Personal branding gallery, Personal branding Denver
The images you show on your website are critical in how you portray your personal brand to your prospective customers and clients. Now more than ever, we use the INTERNET to "shop" for businesses, and your IMAGES matter! Personal branding is all about allowing the viewer to see your products and services (but most importantly) YOU and your team! Often these personal branding images are the only way your clients SEE you!

How can you use these personal branding images?
Blogs:
Include them in your BLOG posts. Blogging regular with GOOD personal branding images, will get noticed!
Website:
Of course you want to place your new images on your HOME page, but consider placing them on your ABOUT page and your CONTACT page as well. Use your OWN picture and pictures of your team, rather than stock images. Business owners that feature personal branding photos of their OWN people inspire more trust than those that use stock photography. Real photos also help tell your personal story. At a minimum, get at least ONE killer personal branding headshot so your potential customers know who they are working with.
Email campaigns:
The business owners who place personal branding images (of their own people or themselves) will get MUCH more attention than just copy!
Landing pages:
If you work with a marketing team, it's likely you have several landing pages. Try adding personal branding photos and watch the increased success you will acquire.
Speaking opportunities:
Speaking at an upcoming event? Create a noticeable bio for events. Make sure that you always have an up-do-date engaging, branding headshot to send along with your bio.
Email Signature:
Since we are not seeing as many of our prospects or clients face-to-face, this email signature is necessary!  Make your email signature memorable. Not everybody remembers your name but almost everyone can relate to a face. Adding a photo to your email signature can make more personable.
Marketing materials:
Sending out mailers or printed marketing materials? Make sure your headshot is on there!! If you print your marketing materials on a regular basis, a photo can be used to make your brochures and business cards stand out.
Remember to swap out your personal branding photos regularly
We recommend swapping out your social media profile images, website images, and marketing photos every THREE MONTHS! Why? Showing that you have a dynamic site will get you more traffic than a static site. Also, out of everything you change, your IMAGES will be what gets noticed the most, so keep them fresh and UP TO DATE!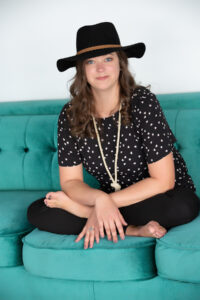 Contact Kelly Weaver Photography to schedule your personal branding photography session. And get ready to target the RIGHT client! GET STARTED or call 720-201-0402