Personal branding gallery, Personal branding Denver, Denver headshot photography, Denver headshot photography gallery
Nowadays fewer and fewer people are meeting in-person and more of us are meeting online via online platforms like ZOOM. I use ZOOM a lot to engage with prospects and I'm sure you do too. What is the FIRST thing we see when we login to a ZOOM meeting? The ZOOM profile picture, yep, your HEADSHOT is what leads the way.
And just as people judge you within the first 5 seconds (in person), so is the case when the "meet you" for the first time online. So, needless to say, you HEADSHOT matters in this virtual world.
Relatability wins when it comes to your headshot
Many of our headshot clients are worried about how they LOOK physically. But what you really should be thinking about is how RELATABLE your headshots appears. People buy people, and they don't care as much about how you LOOK as you may think. And though you may not appear as physically "perfect" as you would like, you can take that off your plate, as you will be more relatable IF you aren't.  I certainly relate more to those who have some wrinkles, keep their makeup natural and may have a bit of a crooked smile. Mostly, I'm looking at their expressions and seeing (and feeling) if they seem like someone I could talk to.
When it comes to relatability, you may be looking AWAY from the camera. I'll often recommend you "look up and laugh" because these types of expressions are REAL. Real headshots with REAL expressions are relatable.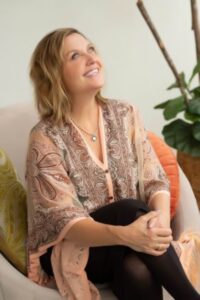 Consider showing more than just head and shoulders
Gone are the days where headshots were taken against a "faux" marbled backdrop with a full studio lighting setup. The trend for today's Denver headshots is to going more "casual", incorporating furnishings, looking-away shots, and natural light. When it comes to business, more of us are working from window lit offices. So why not show what the inside of YOUR window lit office looks like? Let's give your prospects a feeling of what you do, where you work and what it would feel like to be there with you!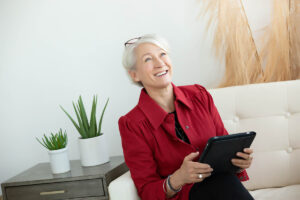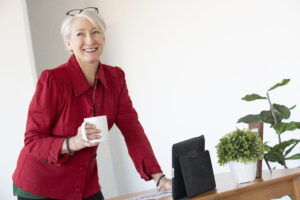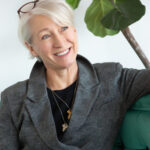 Personal branding, the "new" headshot
Yes "personal branding" is all the buzz. Those waist up vertical headshots have a lot more personality as we move more towards personal branding photography. Personal branding photography and headshots are very different
The next time you are considering updating your headshot, we recommend you try a personal branding photography session instead. This personal branding gallery will give you a good look into the types of headshots we can get from a photo session like this.
A killer personal branding session should include:
headshots (waist up) AND further away photos
furnishings
a setting that looks and feels like your place of work (if you are using these headshots for business)
natural light which will appear more real and relatable (and less like you "tried too hard").
Let your audience SEE you 
If you're like the typical person "going virtual", you need a lot of different headshots. Why? because SWAPPING your headshots frequently WILL get noticed. This of how many times you go to LinkedIn. What captures your attention more, when someone adds a new (copy) post, or when they CHANGE their profile image? Swap your headshots regularly to keep your social media sites DYNAMIC. You'll notice a difference. Good mojo comes from swapping out your images regularly. How often? We recommend monthly swaps. And don't forget about your EMAIL signature. People buy people and they want you. Consider combining your logo with one of your favorite headshots.
Keep your headshots up to date
Ever see someone using a headshot taken about 10 years ago? Celebrate who you are NOW regardless of age, size, or stage of your life. For sure you will want to update your headshots if you've CHANGED your hair or your look. Your headshot should look like the 'YOU' people see in zoom meetings. Plus, when you get killer headshots, you will feel MORE confident and better about yourself than ever. Just wait and see.
For personal branding photography and Denver headshots contact us at 720-201-0402. or GET STARTED here.