Looking for a Headshot Photographer in Denver who specializes in Women? You've landed on the right page. You may be wondering, what sets one photographer apart from another when it comes to photographing women well.
Below you will get criteria and come up with questions to ask when looking for an outstanding photographer who "gets" how to put women at ease and capture amazing photographs.
1. Call the photographer and trust how you feel:
We recommend calling the photographer and getting a general feeling for their personality. Is he/she warm, comforting, and kind? Do they get back to you quickly? Do they ask questions about how you want to be photographed?
The process of photographing women well is based on trust. Do you trust this person to do something (often described as) vulnerable? Can you let your guard down with this person and let them see you? Our goal is to help you feel completely comfortable. We play music, have snacks, and never overbook (so our clients have our complete attention, and never feel rushed).
2. The majority of the photographer's portfolio should feature women:
When you look at the photographer's website, are they a "jack of all trades" or do they primarily focus on headshots for women? You want a specialist photographer, not one who does "everything". It's also quite different to photograph ONE subject well vs. groups/events/weddings. At least 50% of the images on the portfolio should be dedicated to women's headshots or personal branding pictures.
When posing women, we look for "s-curves" in the body, a natural expression, hand and body positions that are "believable" and overall approachability. We never expect our clients to "pose themselves".  It takes years of experience posing women well, and after 20 years in the business, I know how to do that.
Looking at the following women's headshots, notice how the poses flow, the hands are believable, the images are approachable and they are posed in a comfortable way.
3. Look for a photographer with a commercial space
In today's world, we are meeting strangers over the internet. You need to be (and FEEL) safe for your photo session. I personally would not want to go to a stranger's basement for a photo session. Look for a photographer who has a commercial space and has had it for years. The space needs to have other tenants close by and should be in an area with heavy foot traffic. We have had our commercial space for 10 years, located on Main Street in downtown Littleton. Our building is shared by other tenants and we have a welcoming lobby area visited by all tenant's clients. You will feel totally safe here.
4. Look for a photographer who offers indoor and outdoor private settings
Let's face it, Denver weather is unpredictable. So finding a photographer that offers BOTH an indoor, natural light look, as well as an OUTDOOR look is critical. And no one wants to be watched when being photographed. So ask if the outdoor setting is private, a place nobody will be walking by and looking.
Outdoor Setting: Our DECK just off our studio offers the perfect outdoor, private setting. No passersby will be gawking or wondering what you're doing. Privacy is key.
Indoor Natural Light Setting:
We believe that natural light is SO much better. Why? It's warmer (makes your skin look amazing) and just overall less "studio- posey" looking. Our studio is filled with warm, beautiful light. You'll be sure to look engaging and approachable.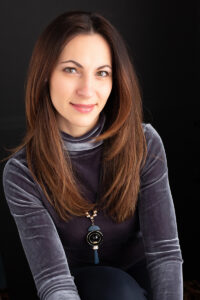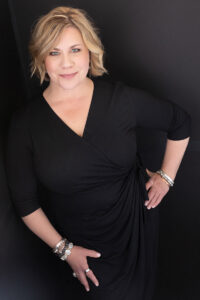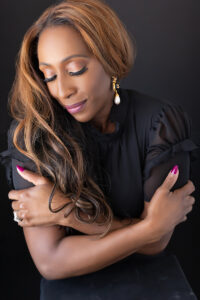 5. Look for a photographer who INCLUDES Makeup in at least one session
At Kelly Weaver Photography, we do believe that PRO makeup makes a HUGE difference! First of all, having your makeup applied is PAMPERING and will set the mood. Our PRO makeup artists know how to do makeup well for all ages, especially women over 40. Once you step out of makeup, you will feel good inside and out, and confidence will flow into your images. Our personal branding session INCLUDES makeup, so get ready to make a day of it! After your session, you will want to be sure to have a dinner date with your partner or friends. There are many places to have a drink or dinner right here in downtown Littleton, CO.
If you are a woman in the Denver area looking for headshots, you can trust that we will take amazing care of you. Kelly Weaver is the owner of Kelly Weaver Photography and has over 20 years photographing headshots for women. Contact us to get your session started! or call: 720-784-4201