Denver Personal branding headshots for Women just got easier. Why? Because we help you posing AND what to wear. And as women ourselves, we know how to create a light, bright, WHITE setting that feels clean and fresh.
Yes, you may think black is a "go-to" and we agree! But have you ever thought about using a white background or wearing white? yes, white! really! 🙂
Why white works for your headshot session:
1. White clothing works great for personal branding:
These days, personal branding headshots for women are more common than just your "smile and look at the camera" shot. People buy people online more than ever.
You want your prospective clients to get a feeling of what it's like to work with you. Personal branding images can easily highlight a working "scene".
Our favorite white scene is our desk scene. It's personalized with props from your own desk, and looks like a place you would meet a client (or do a zoom call). When our clients wear white as well, notice how the "white on white" really takes you to the face. And, you don't have to wear a stuffy jacket. These clients wore soft, flowing long sleeved shirts (that still tailor the body). The color champagne also works well and can look very sophisticated.
2. White creates a feeling of light, bright, airy:
If you are a coach, or consultant and want your prospective clients to "feel good" when they see you, white is perfect. Also, the white will bring people to your face. Notice without the distraction of color, you just see the subject so much more clearly. Each of these women are using these images specifically for their marketing and websites.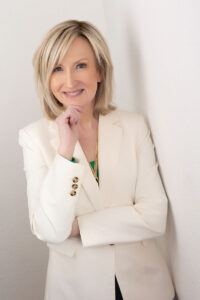 3. Our favorite combo? White background + black and white image:
When creating a timeless black and white photo, the less "busy" the image, the better. A lot of pattern can easily take away from this simple, easy look. When using white in the background, notice how this life coach just pops off the page? It's clean, simple, classic and has huge impact.
4. Your website banner will look clean and fresh with white:
If you are looking for a website banner that POPS, use white as your background. We can easily create a "website banner" image for you whereby we combine your logo and favorite image in one.
If you are a female looking for Denver headshots, you can trust that we will take amazing care of you. Kelly Weaver is the owner of Kelly Weaver Photography and has over 20 years photographing headshots for women. Contact us to get your session started! or call: 720-784-4201