Denver dating profile gallery,   Denver dating photography,
So you're considering online dating? Well GOOD on you! Millions of women and men have joined dating sites lately, why? Because it just makes sense! We live in a virtual world and online dating makes it easy, and SAFE to meet your special person. But when you jump on that first zoom call or facetime call, don't neglect your appearance. Give THOUGHT to what you are wearing and the message your wardrobe sends.
The fastest and EASIEST way to feel someone out is by what they are wearing. What you wear says you care (or not), that you pay attention to detail (or not) and that you are trying (or not). Your wardrobe can also share if you are artistic, classic, conservative, or adventurous. So let's break down WARDROBE for online dating and what to wear when you first MEET someone in person!
Your first (virtual) impression is from WAIST UP:
When you jump on your first face to face virtual meeting, pay attention to what you are wearing on TOP. Okay, be open here. You may not wear sports jackets often, but this is the time to consider a jacket of some sort. Why? because jackets tailor the body, make you look FIT, and slim the body.  You can choose to wear a casual button up, or a knit shirt as shown below. Or if you want to nuke the jacket, a good "go-to" is a turtle neck, mock neck or knit shirt.  Make sure you IRON everything you are wearing and nix the hoodie this time. Keep pattern to a minimum as they can distract from your face. Choose a color you love!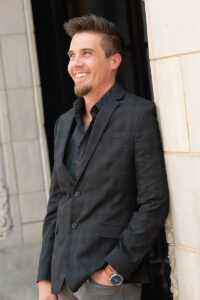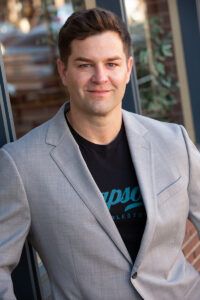 Wear something that shows a bit of your personality
If you're like me, your wardrobe has changed over the years because YOU have changed. And I'll bet your career has too. I used to be a classic dresser when I was in the corporate world. But when I became an artist, I started to dress a bit more artistically. If, for example, you too are more on the artistic side, consider a short sleeved shirt to show your tattoos (if you have them) or rope bracelets or your new, funky glasses!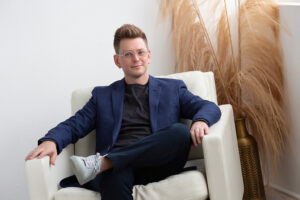 What about hats? 
Definitely bring a hat if you wear one a lot.
When dating (in person) think about your outfit from HEAD to TOE:
When you finally get to meet in person, think about your entire outfit, from your jacket/shirt and accessories, all the way down to your SHOES. Your SHOES say a LOT about you by the way. I'm a BOOT kinda gal. Probably because I live in Colorado and believe they speak to my more casual style. Your clothing should be wrinkle free and your shoes should be SCUFF free.
Here are samples of an entire outfit from head to toe.
Here's a video message to our Denver daters!
When you are ready to move forward with online dating, or need a profile REFRESH, we're here for you!
Ready to get some dating profile pictures that get noticed by the right person, we're here for you. We'll help you from wardrobe choice, to directing you throughout the session.
For dating profile images in Denver that help attract the RIGHT partner, contact us at 720-201-0402. or GET STARTED here.