Personal Branding Packages    Personal Branding Gallery
You've seen all this buzz about maintaining your "Personal Brand" and being cognizant of how it shows up online. What is everyone actually talking about? For each professional, the degree that they choose to naturally show up online differs and there are several different avenues to reach customers – but it all can boil down to the same Personal Brand definition. A personal brand is a combination of skills, expertise, and personality, and how you present them on different platforms is important. How do you show up in your email newsletters? How do you show up on your website? What do your social media profiles look like? Do they show consistency with your website and emails?  If a prospective client sees you in one place, do they recognize you in another place?
And once you ARE being consistent and putting your brand in those places, what are putting out there?  As I said above, it's a mix of showcasing your skills & expertise which can be in the forms of testimonials, certification lists, your "resume" of experiences and work, etc. But how do you show your personality?  The easiest way to do this….your photo!  YOU! When your audience sees YOU, they connect the most. Yes, all the other parts of your brand are important, but what do your smile and expression say about your brand? That's what Personal Branding photography captures.
For entrepreneurs, a personal brand is everything, but how do you know if you're doing enough?
Here are a few tips for improving your personal brand:
1. Get Specific
To really make your personal brand stand out, you need to define it. We can't make a plan if you don't know your end goal or what you want to promote. Jot down what you're passionate about, what people know you for, what you WANT to be known for, and what your areas of expertise are. Be as specific as possible because when you are, you get better results to narrow to your niche and make customers really understand who you are or what they will get from working with you. For example, if you say "I enjoy helping people learn to bake."  That's too general. Having a niche focus will ensure that people truly know what you do.  A better brand statement may be "I help families learn how to bake with their children through interactive online videos and easy-to-use recipes delivered via email." NOW when we go into the photo shoot, I know I need to incorporate a laptop and photos that work well in an email blast, like a horizontal header!
2. Keep Your Profiles Consistent
If you are present on several different online platforms, it's important to make sure that when someone comes across either or all of them, that they can tell it's YOU.  They will remember that they saw you on X and now they see on you Y (and that's because your branding is the same.) And why is that important? Because they will start to feel that you are everywhere which can equate to success. And people want to work with organized, successful people – aka you! Use the same photo, bio, and graphics across all of your profiles so that people will instantly recognize you. If you have made a point of creating profiles on social media, be active on a consistent basis as this will show that you're trustworthy and reliable. There's nothing worse than seeing that someone hasn't posted in 3 months…it's a sign you may be out of business and the phone won't ring! When I do my photoshoots, I provide variety so you can actually use a photo in the same outfit but with different expressions so you are seen as "switching it up" but still being consistent!
3. Share Your Knowledge
As I said earlier, your skills are part of your brand. So you need to showcase them! Seek out opportunities to write and share your expertise. When you do, it legitimizes the fact that you DO know what you're talking about and you start to gain credibility. Being an "expert" IS part of your brand! It's what people may start to know you for. Finding industry-related websites and newsletters that you can contribute to will not only spread the word about what you have to offer but showcase your knowledge on a particular topic too. If you don't already, it may also be a good idea to create your own blog that you can write for on a weekly basis. This also helps your SEO traffic!
4. Engage with Your Audience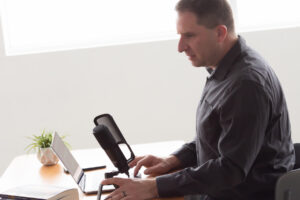 Once you have your brand established, your online presence is rocking and rolling with awesome photos, now it's time to make sure people SEE you. Networking is a crucial part of growing your personal brand and showing it off. I encourage you to engage with people both online and offline on a regular basis. It may take several interactions for someone to decide to work with you or start referring you. An easy way to network online is to join online groups on Facebook or Alignable that include your target audience and show up by answering questions or giving free knowledge. Then people will start to gravitate toward you and want to check out your brand and website! The more you connect with people in an authentic way, the more quickly they will recommend you to others. Set up "coffee chat" meetings via Zoom to connect with others with NO SALES PRESSURE! It's a way to engage even in a virtual way.
5. Speak at Events
If you feel confident enough to speak in front of an audience, keep an eye out for speaking engagements in your area. Speaking at events will help you build rapport with your audience and give you the opportunity to network afterward too. It's also something you can add to your online resume of places where other people have trusted you and engaged with you.  But remember, before you do, you will need a one-sheeter made that showcases what you can talk about and a headshot is KEY to have on there! It's almost like a resume just for they can expect you to talk about should they hire you and they will want to SEE who they are getting. So be sure to have a professional headshot and branded photos to send with your bio and that your website is looking good before you start sending traffic there!
And when you're ready for the updated personal branding photos, I'm here to help! Here's to your success!