Personal Branding Photo Gallery
Hello! I'm Angella!  I am currently working as Kelly's assistant during her Personal Branding photoshoots. I will be helping to organize your clothes, set up the next scene and keep the flow moving along so it's seamless for you!  In the sessions I've been in so far, there is an atmosphere of FUN, JOY and EASE.  I've witnessed first hand how Kelly Weaver puts her clients at ease and provides top-notch service in an efficient environment.
I want to share my take on a recent photoshoot to give you a behind the scenes view of what to expect at your photoshoot! 
___________________________________________
Lisa's Photoshoot: Thursday, January 19, 2023
Lisa seemed a bit nervous coming into her photo shoot, as is common for many people. The session began with Lisa having her makeup done by a professional makeup artist which was the first step towards giving Lisa that boost of confidence she needed to feel her best.  
Once the  makeup session was finished, Kelly sat down with Lisa to walk her through her shoot step by step. Kelly gave Jill a customized,  printed layout of her wardrobe changes to match each scene in creating a unique and individualized look and feel for each photo.
The next stage in Lisa's shoot took place in Kelly's photo studio, this is where the magic happens! Kelly personally demonstrated several different poses for Jill to take the guesswork out of how she should position herself. Kelly guided Lisa through each pose. Even the slightest adjustment in position had a dramatic effect on the outcome of each photo. Everyone has their own share of insecurities, however this is balanced by Kelly's experience in posing people and her ability to highlight each individual's best features. Kelly kept the shoot relaxed and light while staying professional and organized which kept the shoot flowing at a seamless pace. Before we knew it, the shoot was over!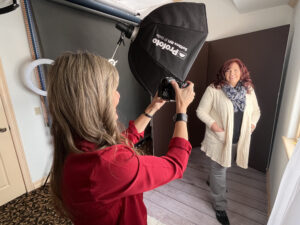 Once Lisa's shoot was complete, she met Kelly in her office to preview her photos. I was impressed by the entire process from start to finish. In a matter of hours Lisa had her makeup done, a completed photo shoot with a variety of backgrounds and poses, and she was able to see her images all in the same day!
Watching Lisa's reaction to her photos was the most rewarding feeling. Lisa was so overcome with joy at seeing her images that she became misty eyed. She almost made me cry! Her photos were absolutely stunning. Lisa is beautiful inside and out, and that came through in every image.
__________________________________
If you want to learn more about how you can have this same experience and get incredible images, schedule a phone call with Kelly Weaver herself and she'll outline everything for you & answer your questions! Click here to pick a time that works for you: https://calendly.com/kelly-photo/consultation
To learn more about her Personal Branding Packages, click here: https://kellyweaverphotography.com//portfolio/personal-branding/