If you are looking for Denver Headshots for women, and feeling nervous about being photographed, you've landed on the right page. Ladies, I hear ya. I too get nervous when I'm photographed. But I've found a way to comfort myself and others before getting in front of a camera.
Recently, I had the opportunity to REALLY feel what it was like to get in front of a camera. I was lucky enough to be featured on COLORADO & COMPANY to talk about my recent "50 over 50 Boss Ladies" campaign. And, boy was my heart pounding. Not only did I have to consider if I looked presentable, I had to SPEAK as well. Ah!
But I found a way to squash those nerves and have a great session. I had a bit of trouble getting the words out at first, so I had to actually use my own techniques on MYSELF. Here is the video:
Here are my tips on handling your nerves before a photo session:
1. Have a chill chat with your photographer first:
Before my live T.V. session, I had the sweetest conversation with the anchor of Colorado & Company, Claudia. She did an amazing job just chatting with me about the exhibit we did the weekend before. SHE looked so calm, that it helped ME feel calm.
You'll want to spend some time on the phone with your photographer ahead of time. That consultation should leave you feeling LESS nervous and in good hands. If not, find another photographer. The connection you have with your photographer is KEY to your photo success. Trust how you feel when you are talking to him/her.
Ask the photographer "how do you help to put your clients at ease?" Be honest if you are feeling a bit nervous. If you have suggestions on what helps you, offer those suggestions. For me, I LOVE to play music when I photograph my clients, and I always ask what music they like. Alexa is my friend ("Alexa, play 80's music"). Music can calm the nerves and inject positive energy into the session. A little "Madonna", "Tears for Fears" or "The Tempations" works every time with female headshot clients my age (59).
2. Note what you are saying in your head:
Your face will show what you are thinking in your head. So, why not create a mantra or list of words that you WANT to show on your face?
Here are a few of my favorite words to think about when being photographed:
CONFIDENT
SMART
PRETTY
FRIENDLY
APPROACHABLE
ENGAGING
My favorites are the last THREE. Why? Because they have nothing to do with LOOKS. Believe me, in this virtual world, people don't want "perfect looking people". So take the pressure off how your body looks. More than anything, your audience wants to feel that you are friendly, approachable, engaging, and just easy to talk to.
When I started to fumble over my words in the beginning of that live interview, I noticed what I was saying in my head. Initially, I said to myself, "boy, you're starting to lose it!" I simply NOTICED I was saying that and switched to "Ah, this is EASY, peace of cake and it's just going to get better from here". Then, things changed, and the interview got better.
3. Do the photography session for YOU:
The moment you start to feel you are doing these headshots to PLEASE other people, stop. You will be way more nervous if you are trying to please others. Do this photo session for YOU. When you are happy, all good things come from that. If you do these photos for yourSELF, you will look and appear more calm, relatable and approachable for sure.
Notice the authenticity of my client's expressions here. Though nervous at first, she stepped in, did these photos for herSELF and magic happened.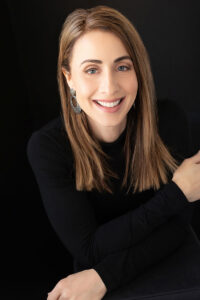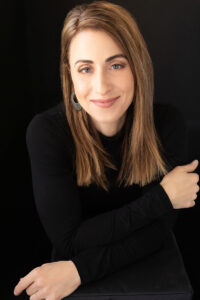 4. Get outside, but make sure it's private:
There's something calming about getting into the outdoor fresh air. You can move around, take a deep breath and chill easier. But if you do go outdoors, it needs to be private. No one wants to be watched when being photographed.
Our DECK just off our studio offers the perfect outdoor, private setting. No passersby will be gawking or wondering what you're doing. Privacy is key.
5. Give twenty minutes of insane courage:
Yes, I did that get that line from the movie "So we bought a zoo" (but it was 20 SECONDS vs. minutes). Okay, but I love that line. We can do anything for 20 minutes with the right coach. Step in! If I can do it you can. Denver headshots for women has just gotten easy. And I'll help you.
If you are a woman in the Denver area looking for headshots, you can trust that we will take amazing care of you. Kelly Weaver is the owner of Kelly Weaver Photography and has over 20 years photographing headshots for women. Contact us to get your session started! or call: 720-784-4201