I'M PHOTOGRAPHING 50 BOSS LADIES OVER 50 —
Here's the FAQ about this exciting campaign!
AS OF MARCH 2023, THIS CAMPAIGN IS CURRENTLY CLOSED. PLEASE REACH OUT TO ME VIA EMAIL AT KELLY@KELLYWEAVERPHOTOGRAPHY.COM TO LEARN ABOUT OUR CURRENT CAMPAIGN!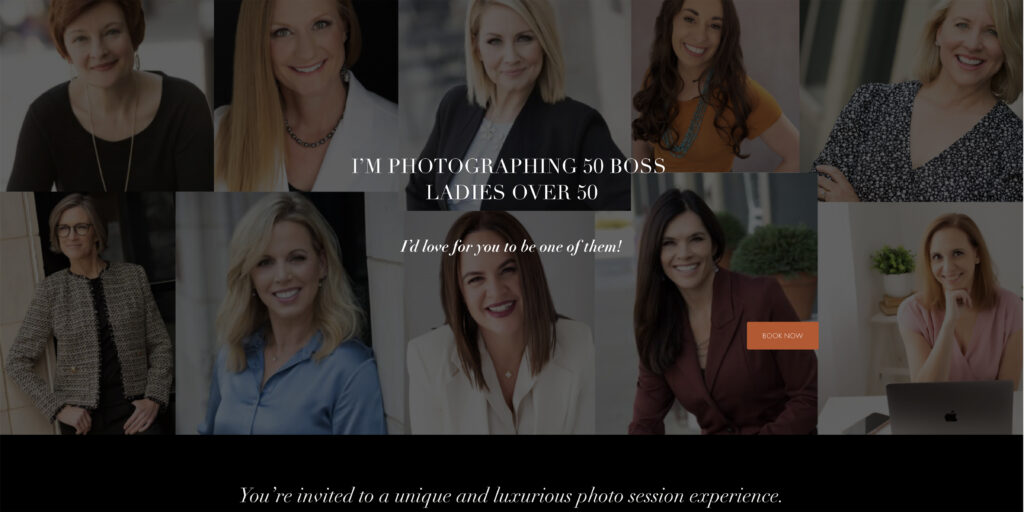 We've started a new campaign called "50 Over 50 Boss Ladies" and we're excited to tell you all about it as well as answer your questions below!
1. Who is this campaign for?
If you are a woman over 50, and you are looking for amazing portraits of yourself NOW to build positivity in your life, you are in the right place.  Our campaign is for women who want to show more of their authentic selves (vs. overly retouched photos with over the top glam makeup that do not look natural). If you are a woman who wants to celebrate herself, the weight you are, the wrinkles you may have and embrace yourself NOW, this is the place and the photo session for you.  If you are ready to say, "yes that's me, and I love that woman," let's get started.
Also, If you are also looking for a COMMUNITY of supportive women over 50 to engage with, this is is the adventure for you. We will have a PRIVATE facebook page group for our participants where we exchange real stories of women over 50 (some working, some retired). We will also be sharing one of your best images (and telling your story) in an EXHIBIT at a cocktail party in 2023! Bring a friend, celebrate your beauty now.
2. What is the experience like?
Our sessions are downtown Littleton. We capture all indoors mostly, but sometimes we can grab some outdoor shots if weather allows. Either way, you will have a ton of variety!
How can I see more about the offer and what is included?
Your SESSION FEE of $399 includes:
● WARDROBE STYLING CONSULTATION We'll discuss pieces in your wardrobe that will look great, as well as several jackets we have at our studio. You'll have 4-5 different outfit "looks" during your session.
● PROFESSIONAL MAKEUP Camera-ready custom make-up application by our skillful, on-site make-up artist…we like to keep the makeup natural and light, so you look like you.
● FULLY GUIDED PHOTO SESSION: Don't feel photogenic? I've got you. I will coach you through poses, find the right angles and light to make you look your best.
● IMAGE REVEAL SESSION: Within 7-14 days, we will share your best of images, answer questions and give you the steps to choosing your final images.
● MEMBERSHIP TO THE PRIVATE KELLY WEAVER LADIES-ONLY VIP LOUNGE FACEBOOK GROUP
Get inspired with stories of other women who have participated and hear how they are using their images and celebrating this time in their lives.
● YOU'LL BE CELEBRATED IN MY UPCOMING EXHIBIT EVENT: When the portrait series is complete in 2023, you will be celebrated in an exhibition featuring a portrait of each of the fabulous 50 Boss Ladies over 50 that Kelly has photographed.
After the session fee, you are free to purchase images a la carte for $275/ea. or choose one of our collections starting at $1395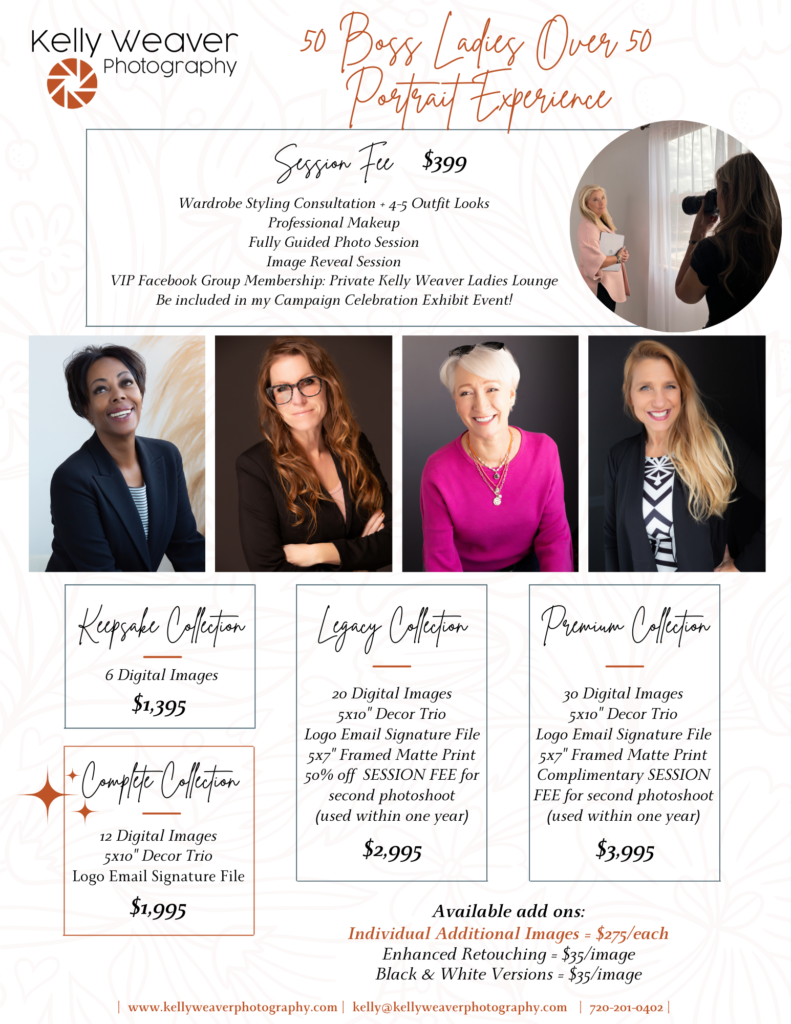 3. Tell me about the included PROFESSIONAL MAKEUP application?
Having a PRO do your makeup makes ALL the difference. She will get a good idea of what you like. We like to keep the makeup polished, yet natural. Think one notch above what you normally wear. She also has very natural lashes that she can add to open your eyes just a bit. The experience is PAMPERING and luxurious and kicks off your photo session in just the right way. When done, you will feel relaxed and beautiful.

4. Tell me about this private Facebook Group?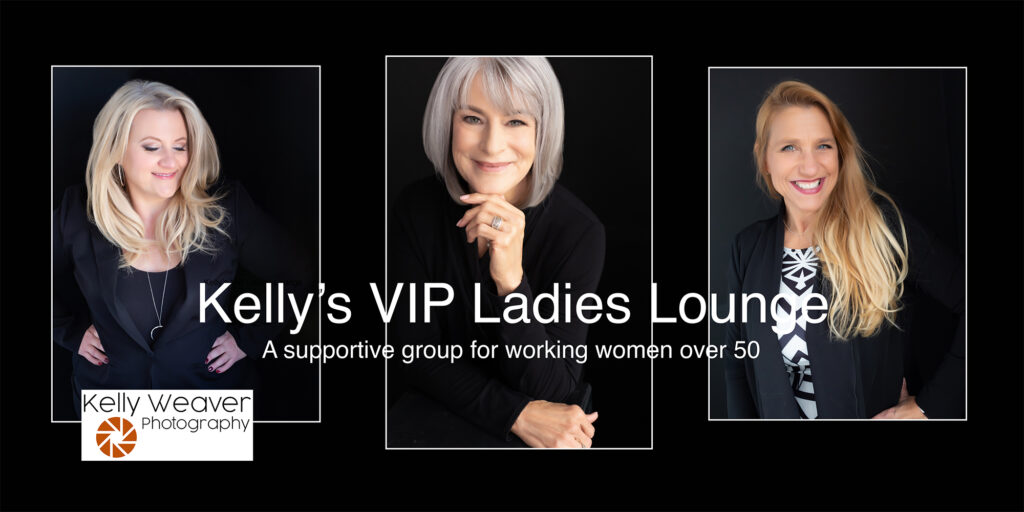 The group is called "Kelly's Boss Ladies Lounge"  JOIN HERE and it's for ladies who are both INTERESTED in the campaign as well as those who have booked a session. I wanted to create a safe space for women over 50 to share golden nuggets about their lives now and inspire the members. You will see behind the scenes VIDEOS of the women's session, 1-1 interviews with them, and images from the sessions. You will also see video and images from the exhibit we will do at the end, where we share the images and stories from all the sessions.
5. I'm ready to move forward, what's next?
THIS CAMPAIGN IS CURRENTLY CLOSED. PLEASE REACH OUT TO ME VIA EMAIL AT KELLY@KELLYWEAVERPHOTOGRAPHY.COM TO LEARN ABOUT OUR CURRENT CAMPAIGN!
Can't wait to meet you and have you be a part of our 50 over 50 Boss Ladies Project!
CONTACT INFO:
720-201-0402