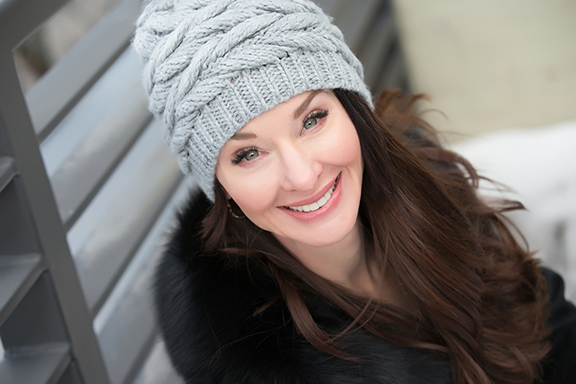 Oftentimes when I see portrait photography, I see gorgeous women but with unfortunate makeup choices because the colors are too bold, the mascara is too harsh or even clumpy looking, and sometimes it makes them look hard and disconnected from their audience. As women, we've been conditioned to believe that we're "not enough," that there's always something out there that will make us MORE beautiful. But we at Kelly Weaver Photography believe that women are ALREADY beautiful just the way they are!
We also believe that wearing some very subtle, natural makeup can enhance your already spectacular features. Makeup is important for portrait photography because without it, the lighting, be it studio or natural, has the potential of washing you out and fading away your best features. Even the slightest amount of makeup can make your portrait photography POP! This is especially true for your lovely lashes.
Having amazing lashes is such an important aspect of portrait photography because they help to make your eyes look more engaged. Our makeup artist does an incredible job applying lashes to our clients. She uses individual lashes instead of the clunky strips, and she even uses BLACK glue! The result? No one can tell that they're not yours, and they essentially make your eyes look more open. Plus, I photograph in such a way that I'm looking right into the face of my clients, and the eyes are slightly looking upward to give that extra-engaged feel. As you can see in the portrait photography in this post, this beautiful client is wearing makeup that looks VERY natural, and she was THRILLED with the makeup AND lashes!
One of the great benefits of working with Kelly Weaver Photography is that we have a fantastic professional makeup artist ON SITE! Not only that, but also our basic makeup option is INCLUDED in our packages. No photographers I know of who do portrait photography offer this service. We really believe that natural-looking makeup is important, so this is why we integrate it into our services. Our clients can add the lashes option ($10) to their packages, and it's so worth it. Even if you're used to applying your own mascara, it's better to work with applied lashes because they look much MORE natural, and mascara can easily look harsh or clumpy in portrait photography.
For more great tips on lashes, check out our YouTube video!
Click here for more information on our portrait photography packages.