Kelly Weaver Photography is one of Denver's premier portrait photography studios. Located in the heart of downtown Littleton, CO, Kelly Weaver aims to help clients create and spread joy throughout their lives as well as the lives of their loved ones (or even potential clients!) through high-quality portraits, professional headshots, and much more.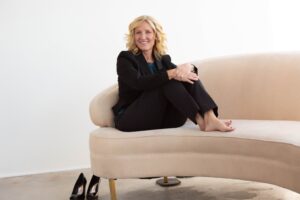 If you're looking for a completely personalized photoshoot experience with a photographer that knows how to capture you in your best light, look no further than Kelly Weaver Photography. Our clients choose us specifically for the close and lasting relationships we can build with a single photoshoot, plus the fact that a Kelly Weaver photoshoot is always easy, fun, and productive.
Stylish, Custom Headshots to Suit Your Needs
With over 17 years of experience, there's no doubt that Kelly Weaver Photography has an above-average understanding of what works and what doesn't when it comes to portrait photography of all kinds. That's why we only shoot in three distinct locations一our studio setup, our interior scene location, and our favorite Mainstreet spot.
By limiting our photoshoot locations to just three that we're completely comfortable with, we hold complete control over backgrounds, lighting, photo composition, and more. That way, we can provide you with a finished product you can't get at just any location or with just any photographer.
Not sure which location might be best for your photo shoot needs? Let's explore some of the details surrounding our sites and what makes them better suited for certain types of portrait photography.
Studio Setup
Our studio setup is located at our primary location in downtown Littleton. At the studio setup, we like to keep things classic and simple with plain backgrounds and excellent lighting, which results in a crisp, clean photo to showcase your best features every time.
Due to the clean and classic nature of our studio setup photos, we typically recommend this location for high-end executives or other professional people looking for the type of headshot that will attract more traditional clientele.
New Studio/Interior Scene
Our new studio located in the beautiful city of Englewood is explicitly designed to feel like a warm, inviting indoor space with plenty of natural light. As opposed to the crisp, professional atmosphere of the main studio, our new studio provides more of a "day in the life" type of feel, allowing your shots to make you appear more casual while still maintaining an air of professionalism.
Generally, we recommend this location for professional people who work in an industry that requires an approachable feel, such as a therapist or life coach.
Mainstreet
Located in downtown Littleton, our Mainstreet photoshoot spot is a favorite among clients who want a casual, urban feel to their photos. While this spot looks and feels like the downtown area, it features a bit more of the character of the old town, mixing the urban city with classic small-town vibes.
Weather permitting, we photograph clients at our Mainstreet location all year round. This spot typically attracts photo clients looking for more personal shots, which can still be extremely useful for professionals who want to express their personality alongside their more clean-cut headshots.
The Importance of Personal Branding
If you're a business owner or a working professional of any kind, you're likely aware that your company's brand is extremely important for attracting clients. However, did you know that your own personal brand is a huge part of how others view and interact with your business?
If your potential clients don't feel connected to you in some way, they're less likely to show interest in your products or services. The images you put out there make an enormous difference when it comes to your inherent sense of trustworthiness and professionalism in the eyes of your clients.
Just think—you could be boosting your clientele today with high-quality headshots that show the real you while also expressing your high level of professionalism at the same time!
Contact Kelly Weaver Photography at 720-201-0402 or email kelly@kellyweaverphotography.com