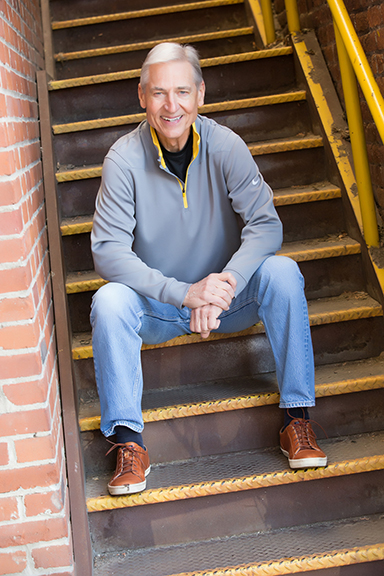 It's becoming increasingly popular for our clients to want both professional as well as casual photos, so Kelly Weaver Photography now offers both photography packages for either two or five poses. These packages allow you to show off your many sides by taking advantage of our location options. In one photo session, we can capture both your professional and casual sides because, after all, professional pictures can also be casual, and you can use casual shots for social media or dating sites.
We have several great indoor and outdoor areas for photos to match your style and personality. Our indoor spot with rich furnishings can highlight your professional side, and our outdoor backgrounds can help show off your more creative, natural side. Some of these outdoor areas on Main Street also resemble Wall Street, so they can work really well for professionals who want to convey power and success balanced with a softer, casual look. Even if it's cold, we can use these spaces because our location is not dependent on foliage.
Our packages also allow you to choose a few outfit options, and we can even consult you on what to wear! Jackets, ties, and darker colors can convey a professional feel, while sweaters offer a more casual look. Also, sweaters can oftentimes look better than button-up dress shirts because sweaters stay tight to the body, whereas dress shirts tend to pucker between the buttons, which can give professional pictures a "messy" feel.
Another way to capture both your professional and casual sides is by varying your facial expressions. For example, smiling with teeth can either be professional or casual, but smiling without teeth usually conveys a more professional and conservative side. One fun way to make a photo feel a bit more casual and friendly is to include a pet!
If you appreciate a natural, authentic, simple-yet-powerful look, Kelly's style is a great fit. As she says, her style is "casual, rather than formal, introspective vs. extroverted, off-center vs. symmetrical, thoughtful vs. reactive." This style works really for professional pictures because oftentimes you don't want professional photos to look overly formal; otherwise, they alienate clients. So balancing a professional look with warmth, openness, and engagement makes for winning professional photo. And Kelly's photography style also works well for the casual look because she shines at capturing her clients' unique personalities.
Click here to learn more about our professional pictures!