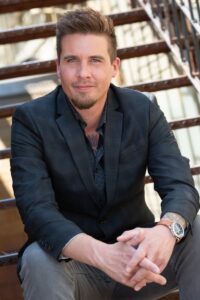 Online dating has taken the world by storm in the last decade. More people are looking for romantic matches online, allowing them to meet diverse partners. First impressions are important when you are dating, especially online. Your photos allow potential matches a glimpse into your personality before they even meet you. This is why you should get professional dating headshots to look your best. Kelly Weaver Photography is the best online dating photographer in the Boulder, CO area. Come to us for your high-quality dating profile pictures!
Why Is Online Dating So Popular?
It makes sense that most people use online dating services now. In the modern world, most communication is done through technology. It is much easier to put yourself into the dating pool through an app than to search your city in person for other single people. We encourage you to find out what happens after you hire a Tinder photographer in the Boulder area. You never know who may be out there waiting for you as a potential romantic partner. With online dating, you have access to more people than ever before, making finding your life partner a whole lot easier!
Dating Headshots: More than Just Pictures
The photos on your dating profile are not just for show. They can determine the type and number of matches you get, which ultimately impacts your quest for love. Headshots are meant to showcase your best and brightest features in good lighting. Many professional headshots are stiff and overly formal, which is why it is best to hire a dating profile photographer in the Boulder area. We can capture your best personality traits and add unique flairs to your appearance. Through our beautiful backgrounds, posing guidance, and high-quality editing, you can come one step closer to finding the perfect partner on dating websites.
The Benefits of Hiring a Dating Photographer in the Boulder area
You might be wondering why you need professional photos for your dating profile. After all, isn't online dating supposed to be more convenient? It still can be! We facilitate quick, convenient, stress-free shoots to capture the perfect images for your profile. There are several benefits to choosing an online dating photographer in the Boulder area over posting casual selfies.
Boost Your Confidence
Getting photographed can be the self-esteem boost you need to get out of your shell. When it comes to dating, genuine confidence can make a world of difference. We bring out the best in you during our photo shoots and focus on what makes you special, unique, and attractive so you can get the best results. This confidence will shine through in every photo after your session. Hear from Kevin about his experience!
Make You Appear Dynamic
People have different reasons for joining online dating services. Not everyone is looking to settle down with a life partner, which can make the online dating experience frustrating as you search for matches who are serious about you. Hiring an online dating photographer in the Boulder area is a great way to stand out from the crowd. If you are looking for a serious love interest, nothing communicates that better than high-effort photos. These photos show that you took the time to present yourself in an authentic but attractive way. Taking a more committed, mature approach to online dating can result in matches that you would not have gotten otherwise.
Highlight Your Best Features
It's not easy to emphasize your best qualities with a selfie taken at home. Lighting, editing, and posing all make huge differences in the quality of your dating profile photos. We know how to work with the camera, the model (you), and the location to produce quality photos. Our photography techniques will bring out the best in your physical features so you can put your most attractive foot forward in the online dating world.
Professional Dating Guidance
When you come to Kelly Weaver Photography for your dating headshots, you also have access to an online dating coach. This coach specializes in all things romance — especially through apps like Tinder, Bumble, and the like. Our dating coach can help you with the following aspects of online dating:
Healthy boundaries
Confidence
Dating profile biography
Stress management
Handling major life transitions
Emotional healing
Body image and self-esteem concerns
Organization and productivity
Self-assurance and healthy attachment
These all factor into the quality and number of people you will attract through your online dating profile. If you need help with your online dating strategy, our coach has you covered!
Professional Wardrobe Consultant
Not sure what to wear for your online dating photoshoot? No problem! We have a wardrobe consultant on hand to help you pick the best clothing for the shoot. What you wear says a lot about who you are, especially to potential dating matches online. They only know what they see on your profile, so it is important to give them the right first impression. Our wardrobe consultant will style your outfits for the photoshoot with pieces that flatter your figure and overall appearance.
How to Get Started with a Dating Profile Photographer in the Boulder area
When you choose Kelly Weaver Photography, you choose 19 years of experience capturing people's best attributes on camera. There are numerous ways to get in touch with us to plan your dating profile photoshoot. You can call us directly to get more information by phone. We will never pressure you to buy a photography package. The choice is always yours. You can also fill out our online form and check the boxes that relate to your needs and wants. We offer many different photography services; you can select the Daters option for an online dating photography session. Our preferred method of starting a business relationship is through a Zoom consult. During our 15-minute Zoom call, we will discuss what you are looking for and hope to achieve through a photo shoot. We love personally connecting with you! If you are available for one, a Zoom consult can give us a direct idea of what you need from us. There is no obligation to purchase a package if you
schedule a Zoom call
.

A Note About Confidence and Comfort
We understand that not everyone feels comfortable and confident in front of a camera. Photoshoots can be stressful for people who prefer to stay out of the spotlight. At Kelly Weaver Photography, we work with you to ensure you are comfortable during your entire session. We choose photoshoot locations to suit your dating profile needs and comfort level, so you don't have to worry about feeling self-conscious. Confidence does not come overnight, but you can build it slowly by getting out of your comfort zone. If you are afraid to be photographed, we can help you work through those fears at your own pace. By the end of most photoshoots, our clients feel relaxed, at ease, and more confident in themselves than before. This confidence shines through in your dating headshots, which are key to getting successful matches.
Hire the Best Dating Profile Photographer in the Boulder area!
Kelly Weaver has almost two decades of professional photography experience. If you want high-quality photos that convey your best physical and social attributes, you are in the right place. Schedule your consultation or fill out our online form today to
get started
with your dating profile headshots!
We Create FEATURE Images to Capture Attention
It's the first image your audience sees
You need to create a FEELING, not just a good picture
This image must attract your potential partner
Create a "pause" and get your audience to linger