Senior Moms frequently ask me, "should I come to the senior session?" So, I'm here to have a little "couch time" with you from one senior mom to another. I'd like to explain why (through my experience) it is not a good idea to attend your son or daughter's senior session. We've spent 18 years noticing what works and what does not work and have found the best results come when the seniors come alone.
Please read on. Here is why I believe you let your senior come alone to their senior session.
Your senior wants to please you
We're all a bit different when our parents are around. We act differently and we LOOK different. I can genuinely get the senior to trust me more with a 1-1 connection and get more relaxed, genuine expressions (note I did not say "smiles", read on). My connection with your senior is the BIGGEST factor in the overall success of your senior session. They've got to trust me and let their guard down and it's easier to do that when it's just us. Your senior may also tell you it's "okay mom" (to come), but I can tell you they often are saying this to please you. Have an honest conversation.
It's hard to be photographed while being watched
Ever try and relax when you are getting your picture taken and you are being watched? It's not easy. It's especially hard if a parent is critiquing your smile, your clothing or trying to engage. We value the "chill" experience that is quiet and peaceful and all about the senior, so the less people watching, the better. Often our senior sessions are just me, my assistant and your senior. We also don't have any other SENIORS being photographed at the same time.
Body insecurity
I remember my parents commenting on my body and my need to lose weight when I was a teen, and how hard that was on me. Plus teens are already so hard on each other and particularly themselves. Seniors are often insecure about their bodies and tell us so in their personality profile questionnaires. It's my job to help them feel GOOD about their bodies, and I can do that best through 1-1 interaction. How? I will often show them pictures as I photograph them that are FLATTERING, then once they see them, they loosen up and the best results happen from there. I will also (sincerely) compliment them as we go. I will also help with wardrobe selection in the senior process.
Let them have their moment
We all have experiences we want to SAVOR and Senior pictures are one of these. This session marks a HUGE celebration and accomplishment in their lives. It's best to let them have this time to savor on their own.
Eye Contact
It's important the senior looks INTO the lens, and when parents (or others) are at the session, they are often looking at them. I can keep eye contact best when the seniors are not distracted by others.
Catching the moment "in between"
I will be able to capture candid moments in- between shots easier if parents are not there. The seniors often will let their guards down easier and show me who they are… Here's one such moment:
NO smile is often better
Parents often tell their kids to SMILE and often they don't want to (or they look forced). Telling a Senior to SMILE doesn't work in many cases. So I bring out the "laser focus" look. I guide the Senior into a pose that shows an expressive, connected look. My FAVORITE images are the "laser focus" shots.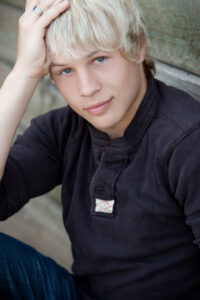 If you are not sure to come or not, have an HONEST discussion with your Senior. If you are interested in coming, tell them that it is OKAY if they want to come alone. Every senior and senior parent have a different connection. If you do want to come, there are several areas you can wait, then CELEBRATE with them when they are done! Go to coffee and get that special "with whip" drink. Ask them about their experience and what were the best parts! Senior parents, I can guarantee you will feel VERY involved in the senior process. I get how important this experience is for you too.
We are here to help get comfortable, sincere pictures of your Littleton Senior and will help you through the process. Give Kelly Weaver Photography a try. GET STARTED here or call 720-201-0402