Senior Moms frequently tell me, "My senior HATES being photographed." If that is you, you may be thinking, "now what?" How do I get GREAT senior pictures from a senior who doesn't want to be there?
Read on for 7 ways I create GREAT senior photos from Seniors who really don't like being photographed.
Ask why
I don't dwell on this topic, but it's important. Many of us hate being photographed because of a bad photo experience in the past. I get it, I've had bad pictures taken of me and it affected how I looked at myself. After that I was timid to be photographed again, and I'm a photographer! I'm here to tell you that when I do the photo session, your Senior will not only feel better about being photographed, they will LOOK at themselves in a much more positive light.
Find common interests
Once you book your senior session, I will send you an online questionnaire to share with your Senior. This questionnaire is done by the Senior, not the parent. And it's a chance for them to talk to ME directly so we can start to build a 1-1 relationship. Do you think we ask, "what type of senior photos are you looking for?" nope!! why? Most Seniors have no idea how to describe the photos they want. Moreover, the key element to successful Senior photos is CONNECTION with the photographer. So, we ask CONNECTIVE questions about the MUSIC they listen to, what they are looking FORWARD to and what their favorite movie is. It's amazing how well I can connect once I find COMMON ground. I'm still surprised how many Seniors like the same music and movies I do! Once we have a connection, the Senior will let go. Your senior will relax more, which leads go much more natural expressions.
Build trust
To get great senior pictures, your Senior has to TRUST me. I build trust by asking them questions. I show that I care about what they are interested in. And I direct them with a confident voice so they have confidence in me. I also show the pose first, so they can see what we are going for. And I pose them easily and naturally.
Photograph QUICKLY
One big reason to use a PRO Senior photographer, is that we've had YEARS of experience posing and directing sessions. With LOTS of practice, less time is needed to produce success. I can produce amazing Senior portraits often in just 1/2 hour. It's going to be easier to tell your Senior, "this is going to be a FAST and painless session" vs. "get ready to spend 2 HOURS doing your photos".
Catch the moment "in between"
As the session progresses, it gets easier. I'm not beyond asking for faces like THESE. It's often the smile that follows that is the most relaxed.
DON'T look at the camera
Yep, NOT looking at the camera can we WAY better for those who hate being photographed. I can often get much more natural expressions by looking AWAY.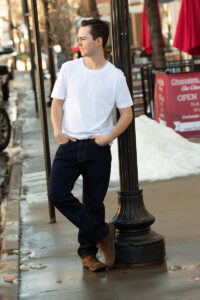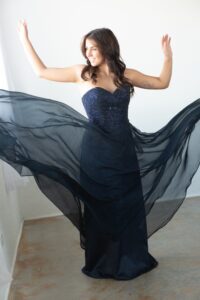 NO smile is often better
Telling a Senior to SMILE doesn't work in many cases. So I bring out the "laser focus" look. I guide the Senior into a pose that shows an expressive, connected look. My FAVORITE images are the "laser focus" shots.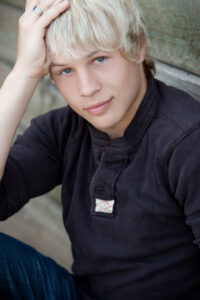 If your Littleton Senior doesn't like being photographed, give Kelly Weaver Photography a try. GET STARTED here or call 720-201-0402