Senior Photography, Senior Picture Gallery, Littleton Senior Photography Studio
Moms, I get you. I was recently a senior mom too. Please watch this video:
Many of our Littleton senior parents don't know what to ask other than,"do you include digital files" and "how much"? So we put together this blog to let our Senior parents learn other good questions to ask and our answers. 
Our happiest clients appreciate the communication and transparency we offer. No high pressure sales here and we are completely upfront about how we photograph seniors, our pricing and our unique offerings. We offer a very different approach to Littleton senior pictures. Far different from our competitors. Read on…
What makes Kelly Weaver Photography different from other Littleton Senior Photography studios? 
After 18 years as a senior photographer, I realize the key components to a successful and FUN senior photo session. Though we offer a lot of information on our site, we believe in a personal walk-through approach. We will never throw digital files at you and tell you to "go figure it out online". People want PEOPLE to help them more than ever, and so we are here for you. 
We believe a GREAT connection with you and your senior is KEY. So, that's why we only photograph 50 seniors/year to keep that relationship close. We get our best pictures when the senior feels like we see them and understand them. And our parents are very involved in the process. We believe in creating a CONNECTION and relationship, not a transaction. 
We include Core 4 items in EVERY package. These are items we've identified over the years as goodies you will want, need and VALUE and so we just INCLUDE them. 
Our unique style is instantly recognizable. It is LIGHT, BRIGHT and natural with a soft (out of focus) background. 
How does the senior photography process work & how do I start the process?
Take a look at our SENIOR GALLERY to determine if our natural style is right for you
Review location options: We have the BEST senior location options
Review this entire blog FIRST, then….
Contact us: Either fill out the GET STARTED form or call us 720-201-0402 to schedule your 15 minute Discovery Call 
Discovery call: We do Discovery calls M-F 9-5. During that call, we will answer any lingering questions. We will also share all package options with you and help you hone down the perfect one. Our packages start at $695. While we are on the phone, we'll also help you BOOK your session.
Booking received: Within the booking form, parents will be given the opportunity to express their desires for the session
Clothing Tips & helpful hints will be shared: You and your senior will receive CLOTHING tips and ideas on how to have fun and make the session a complete success
Personality profile questionnaire will be sent: Inside the booking confirmation email, you will be directed to a "personality profile" which your senior will fill out online. The questionnaire give us the opportunity to find out more so we can best connect with them during the session. And, it's also an opportunity for your SENIOR to speak to us directly. 
Senior photo day: The session will be FUN and your senior will feel totally connected. This is the time in their lives they will REMEMBER
Proofs post: Within 1-2 weeks after the session, the proofs will post and we will guide you to your private link. You will have time to preview the "best of images" before your order session, and share the profs with friends and family. 
Order session: Now you get to come in and PICK your INCLUDED items and yearbook image. No high pressure sales, just pick your goodies! 
Spring time Graduation Announcements: In the Spring, we will help walk you through ordering graduation announcements, it's SO fun! 
When is the best time of year to do Senior Pictures?
Yearbook deadlines are what drive WHEN we do Senior Pictures. What few people don't realize is that Senior yearbook deadlines are usually late Summer/Fall right when the seniors head back to school. That means we have to back up at least 6 weeks to meet those deadlines.
Outside of the yearbook deadlines, we have to consider best time of year for FOLIAGE and weather conditions. June and July are the best months as foliage is RIPE and green and the wild grass if tall and beautiful. 
The image below was taken in June when the tall grass was at it's PEAK! It's our favorite time of year to do Senior pictures. 
What senior photography locations do we use? 
Depending on the package selected, you will have various natural light locations available. For Session 1, we use select areas from our "Highline" location. Sessions 2-4 can choose between our urban downtown Littleton "Mainstreet" setting or a natural "Highline" setting near the Highline Canal. 
If you are NOT sure which to choose, we recommend our "Highline" location as it offers a bit of both urban and natural looks. View our Senior Photo Locations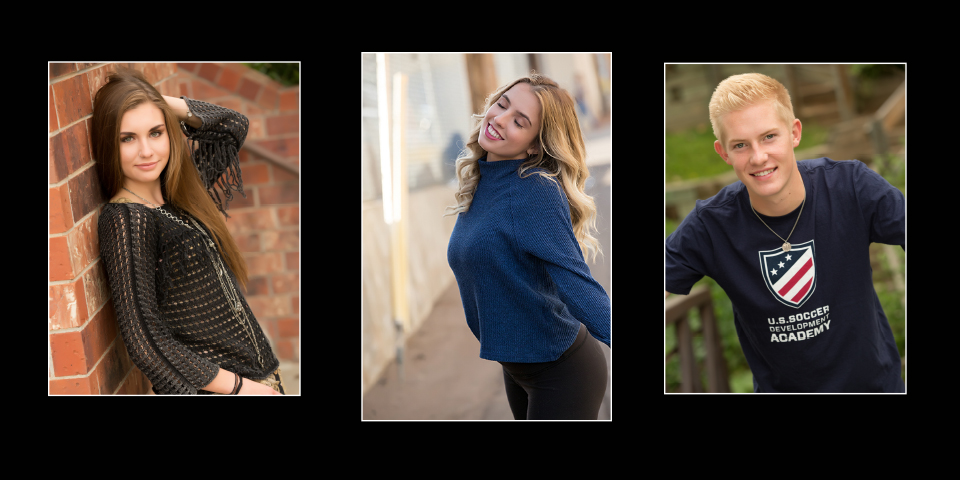 For those choosing our FAIRYTALE package, you get TWO location settings! Pick an urban or nature setting AND get a 2nd session done in our window lit location setting. It's the perfect place to show off those dresses you may not have gotten to wear this year!
Can I share my senior proofs with family and friends? 
Absolutely! Your private proofs link can be shared with family and friends and they can order directly with us. 
What are your packages and pricing? 
Our packages are unique to our studio. Why? We believe in ALL IN pricing! Our packages what you need! Not only do we include the session and yearbook picture, we also the CORE 4 items we know you will need, want and LOVE. These 4 items were not chosen at random, rather, they have been proven to be our CLIENT FAVES, so why not just INCLUDE them!! yes! 
We believe it's important to be fully transparent with our pricing. Our packages start at $695 (all in), a killer deal compared to our competition.  Each package will include a different number (and various sizes) of the CORE 4 items. 
Because our senior packages INCLUDE so much, there are NO high pressure order sessions here. Rather, your order session will be simply a time to PICK your goodies! And we'll walk you through that process.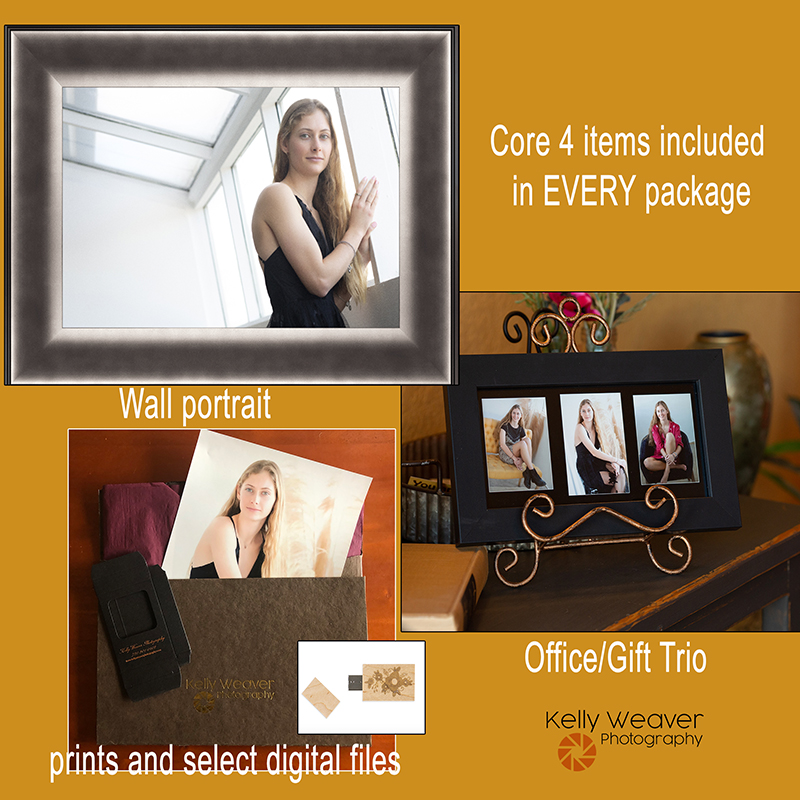 What is your session fee?
We don't have one. We believe in an all-inclusive option. Our packages INCLUDE the photography session. 
Are prints and products included in my package?
Absolutely!! Each of our packages include a set of PRO printed items (such as 5×7's, 8×10's, wallets) AND a 3 pose trio (above). The trio is a CLIENT favorite, so we just include it! You can't get it anywhere else. Three of the 4 packages we offer ALSO includes a framed wall portrait. Having FINISHED items is important. We want EVERY client to leave with something READY to display. We are not the photographer that will hand you a thumb drive and say "now go get some PRO products and prints somewhere, I'm sure you can figure it out". We believe in walking our clients through the entire process from photo session to retrieving finished prints and products. 
Do I get the digital files? 
Digital files are a HOT topic. And we don't blame you for asking. We've looked at what other photographers do. Many are what we call "shoot and burn" photographers. They are the ones who take a zillion pictures then give you a thumb drive and say, "go get em." Then you have to figure out where to go and you only have access to CONSUMER labs. And often a "confused mind says no" right? So the confusion just creates "analysis paralysis" and the files sit in a drawer. And, over time, the media you have them on will no longer work. So, now you've just lost your precious senior pictures. 
Truth be told, it would be EASIER for US to just pass on digital files. But where is the RELATIONSHIP building in that? We believe every one of our clients should be walked through the ENTIRE process which INCLUDES the ordering and printing process. And our relationship to you and your senior MATTERS to us. Our business model is based on 1-1 connection. We believe that it's more important to be meaningful than expeditious.
One of the reasons I've built our business model off of personal connection is that I have also been told, "here you go, go figure it out online".  And that felt horrible. Or "here is an article you can read on that". It's hard to find a caring PERSON who walks you through the process. Someone who will talk to you or meet with you. You can count on us to walk you through. 
Over 18 years in the business, we know that a combination of a few select smaller digital files PLUS printed products (you can't get elsewhere) is the best approach. Yes, we get why you want digital files, but do you really need 100? Most of our clients have a few FAVORITES. And those are the ones we turn into smaller 4×6″ digital files.  Each package contains a select few of these FAVORITE 4×6″ digital files. Use these for graduation announcements, to create small prints for family and share on social media! have at it and ENJOY only the "best of files". 
You can print your chosen digital files anywhere if you'd like. Or share them virtually. But if you do plan on printing from them, you can do so up to 4×6″ in size and we recommend you do it from your personal senior gallery. Why print from OUR gallery? Our gallery is connected to a PRO lab, and will offer you a much better quality overall. Consumer labs just can't do what a PRO lab can. PRO labs are only available to PRO photographers. Let our PRO lab print them for you. 
Still want ALL the digital files for safe-keeping? Yes, we can provide the full set of FULL-SIZED digital files to keep "just in case" of a fire, loss or damage to your senior pictures. How do you get the full set of digital files? If you purchase an album or custom print box with 25 of your favorite poses, we GIFT you the full set of FULL sized digital files!
What do our clients have to say?
We believe everyone looking for Littleton Senior Pictures should review that photographers GOOGLE REVIEWS! Please check out what our clients have to say and note the common theme of walking them through, connecting with them and helping them feel comfortable. Click to see OUR GOOGLE REVIEWS! 
How long to you keep the senior files? 
We keep the files for 3 months after the senior photo session. Feel free to order within that time frame. If you are concerned you may want "more later", it may make sense for you to purchase the full set of digital files. Remember, when you do, you get a complimentary ALBUM or custom photo box with 25 of your favorite files! 
What is it LIKE to be photographed?
We know that MANY of our Seniors hate being photographed. Fear of being photographed is SO common, we actually wrote a blog on it: My senior hates being photographed, now what?
You can feel comfortable that after 18 years of photographing Seniors, I know ways to help them feel totally comfortable. And I work QUICKLY. More time, is not going to excite your Senior. 
Parents tell me all the time, "hey my Senior came home from the session and said he actually had FUN". 
Take a look at this video below to see what it's LIKE to be photographed! 
Purchase an album or custom photo box and get ALL your digital files for FREE! 
Remember the quality of a consumer lab does not match a PRO lab. So, basically what YOU can get "out there" is not what you will get from us. For the clients who purchase an album or print box (with 25 of your favorite images), we GIFT you THE full set of digital files from the session! Why don't we JUST give digital files? Because we want you to have a custom product beautifully printed by our PRO lab to go along with them! Otherwise, you're likely to do what I did, and put my son's senior picture files in my drawer. 
Our senior BLOGS are a great reference for you!
We've taken a LOT of time created interesting blog topics that cover "all things Senior year"… new blogs will post soon regarding ACT/SAT test taking and finding the right college for you. You can be assured there are TONS more blogs about senior pictures as well. Click BLOG to find out more about Senior topics that may interest you. 
GETTING STARTED.  I'm ready to take the next step! 
Once you've perused this blog, click GET STARTED here or call us to schedule a 15 minute Discovery Call!  On the Discovery call, we'll answer any lingering questions, and we can chat with you about the package options and help you book. Kelly Weaver Photography: 720-201-0402.