Dating online starts with a GREAT dating profile, no doubt. The FIRST IMPRESSION you make online matters. When someone is interested in you, often the next step is an online Zoom call. So let's talk about how to set up your scene so that these Zoom calls are effective and get you to step 3, the actual date.
Here are 10 tips on how to make a great impression for your video call:
1. Light yourself
Avoid shooting INTO the light (backlight) which makes your face look too dark. For many, fully lighting the face is most pleasing. Find a window that does not have directional light coming in and place your camera/computer in front of it letting the light fall onto your face. If you have a FULLER face, and need some contouring, position the camera/computer PARALLEL to a window (again with no directional light), which will add shadow to the opposite of your face (thus thinning the face). If the shadow is TOO harsh, position a white towel/sheet on a rack on the shadow side to fill the shadow. Another option for lighting is to literally position a light in front of you (like a lamp or video light). Here, I've used a RING light, but you can use any external light source positioned to shine into your face.
2. Raise the camera
Place your camera/computer on top of a box (or some books) and tilt it downward. No one looks good from underneath. And nobody wants to look up your nose or see your ceiling fan.
3. Create distance behind you
It's ideal to have a least 6 feet behind your head to the nearest wall (otherwise, the background becomes too competitive).
4. Note the background & Create a pleasing scene
Consider adding a lamp with warm light, a stack of books, or a candle. You're setting a MOOD here. Avoid lots of crazy pictures or sports posters behind you. And, yep, I'll say it again, no ceiling fans.
5. Dress with solids
Yep, you guessed it, dress is important. Consider a SOLID color shirt (so as not to distract from your face). Shirts with sleeves are especially flattering (because the eye will go to your arm/skin otherwise). Accessorize how you normally would (just not TOO flashy, but heck, I love big earrings because they suit my personality). Guys, throw on a sports jacket (seriously, it works), over a knit shirt. Jackets will tailor and slim and body. They also create a please "v-shape" which brings the eye UP to your face. 
6. Makeup/Hair
Ladies, you can POOF your roots to give yourself a little volume, and do your eyes UP a notch adding a bit more liner and shadow to make sure they POP!
7. Powder!
Yep, just like in the movies, add translucent POWDER to decrease shine. I Always keep some powder by my laptop, and just hit the "t-zone" before a zoom call.
8. Smile often
Even if you are not speaking. People are checking you out, and you don't want to scowl, even if you're presenting your "concentrating face." Practice smiling with your eyes especially, and do it often. These faces/expressions below work. You can also lean IN which appears as if you are interested and listening.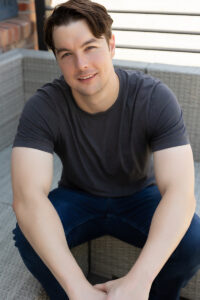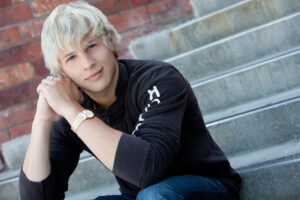 9. Look at the camera
This way people feel as if you're speaking to them
10. Turn on "Do Not Disturb"
So you're not constantly "binging and bonging" in the background
Have FUN playing with different options! And remember people ARE watching you, even when you're not talking! 🙂
Call a Denver dating photographer who knows how to get you noticed: 720-201-0402. There's a psychology to putting yourself out there and we can help.
Kelly Weaver Photography is the premier Denver headshot photographer, specializing not only in headshots, but also online Denver dating profile images and Littleton high school senior pictures.